Navigating video marketing can be overwhelming to say the least. How do you reach your target market? What are the best tools for the best ROI. And most important, what is the best strategy for your business. These and other questions are answered in this fantastic article by Videocady.com highlighting 20 Proven Video Marketing Strategies to Help Boost Your Business. Keep reading below!
20 Proven Video Marketing Strategies to Help Boost Your Business
Video marketers today face a massive challenge of creating compelling videos that could reach out to their target audience and make them 'act.' Videos are produced in thousands each day, but most of them fail to stand out. Many marketers are willing to experiment with the latest video tools simply because they have been asked to focus on videos. However, they are unable to create an impact due to the lack of a defined strategy. If you are a video marketer, remember that strong video marketing strategy combined with targeted videos will alone lead you to success.
What is Video Marketing and How it Works?

If you say that a picture is worth a thousand words, imagine what a targeted video is worth! Video marketing enables you to build rapport with customers and promote your brand.
Every brand tries to create videos that promote their company, create awareness about their product and services, and in some way, help increase their sales. However, like all marketing efforts, video marketing for business is driven by data. Hence, it's essential to track buyers' engagement and different metrics.  
Statistics to Show Why Video Marketing is a Must for Businesses
If you are still wondering whether to use video marketing for business to achieve your company goals, here is evidence to prove why you mustn't lose a minute to invest in video marketing: 
A one-minute video is worth 1.8 million written words
Videos help retain 65 percent of information for three extra days
A whopping 400 percent of buyers prefer to watch a product video in comparison to reading about the product. 
Video is likely to earn you 12 times more shares than pictures and written content 
Eighty-seven percent of companies use video marketing strategies as part of their marketing campaign to reach out to maximum people. 
Companies using videos in their marketing campaigns have talked about a considerable increase in their click-through rate (CTR), web conversion rate, and faster revenue growth. 
Now, do we need to mention anything more to convince you to incorporate video marketing into your marketing efforts?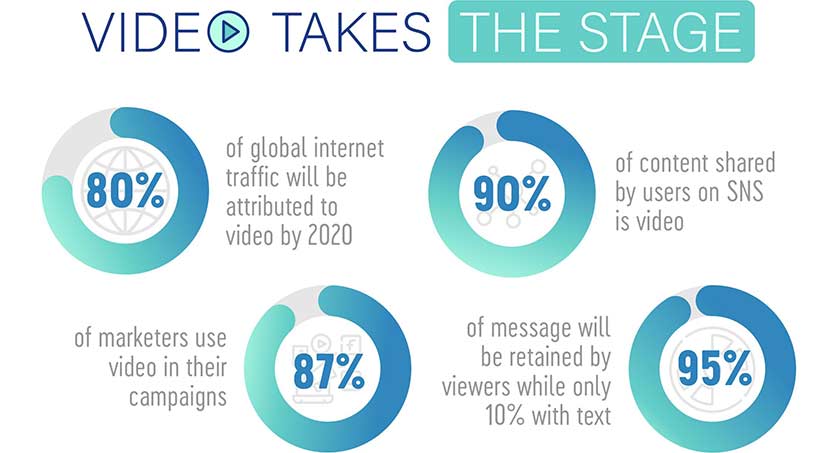 If you would like to keep reading the full article head on over to Videocady.com.